Training personnel to be proficient in the use of explosive detection equipment is an investment well worth the time for military, law enforcement, security, and intelligence personnel. While the value of this training is recognized, the time needed for understanding and operating electronic detection systems can be too time-intensive for some teams. Not to mention the strain these expensive sensors can put on the budget.

The TraceX explosives detection kit has become an integral tool for military and law enforcement personnel facing the challenge of identifying suspected bombers, bomb makers, improvised explosive devices, and explosive materials. It's rugged, field proven design meets the needs of these professionals when combating international terrorist organizations, domestic terror threats, and any situation where a suspected explosive material poses a hazard to the public.

The TraceX explosive detection training kit was designed to make training simple, affordable, and time efficient. Each training kit is provided in a sealed pack containing one TraceX explosives detection training kit, a set of operating instructions, a blue plastic film which acts as a sampling substrate, and a foil bag containing citric acid powder which simulates the suspected explosive agent.

Following the directions on the operating instructions or watching along with the TraceX classroom training kit video, personnel can be trained to use the TraceX kit in under 15 minutes. To use the training kit, simply lay the blue plastic film on a flat surface, and then tear open the citric acid packet and tap the powder out onto the blue plastic film. Then, following the instructions below, the user collects the sample, tests the material, and reads the results in just 10 steps.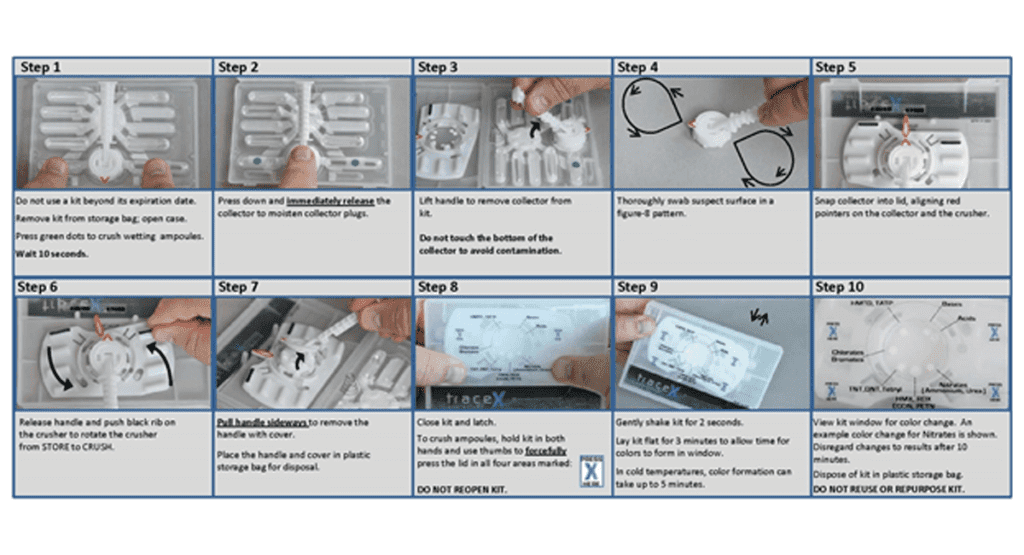 If you'd like more information on the TraceX explosives detection kit and the TraceX explosives detection training kit please contact us by phone at +1(757) 431-2260 or email us at [email protected]

About Morphix Technologies®:

Morphix Technologies®, located in Virginia Beach, Virginia, is an ISO 9001:2015 certified company creating and manufacturing products that detect invisible dangers in order to save lives. Morphix Technologies® brings innovation to the colorimetric detection space with high-quality, easy-to-use, cost effective colorimetric sensor technology for military, law enforcement, first responders, homeland security and industrial personnel. http://www.morphtec.com/