LAW ENFORCEMENT Uses for CHAMELEON®
– CHEMICAL DETECTION KIT FOR LAW ENFORCEMENT
CHEMICAL DETECTION SAFETY KIT
Law enforcement personnel must assess dangerous situations quickly and safely. Body armor protects against bullets, but unseen hazards like toxic chemicals are more challenging to mitigate. And in the past, chemical detection devices were often not provided to law enforcement officers because the devices were too cumbersome, difficult and expensive to use on a regular basis.
Lightweight, cost effective and easy to use, the Chameleon chemical detection device bolsters law enforcement professional's ability to identify dangerous conditions. The simple color-identification system is easy and reliable, even under the most stressful and complex conditions. And it's hands-free, providing chemical detection without ever having to put down your weapon. Chameleon chemical detection device is available in a number of convenient kits to meet your specific mission needs.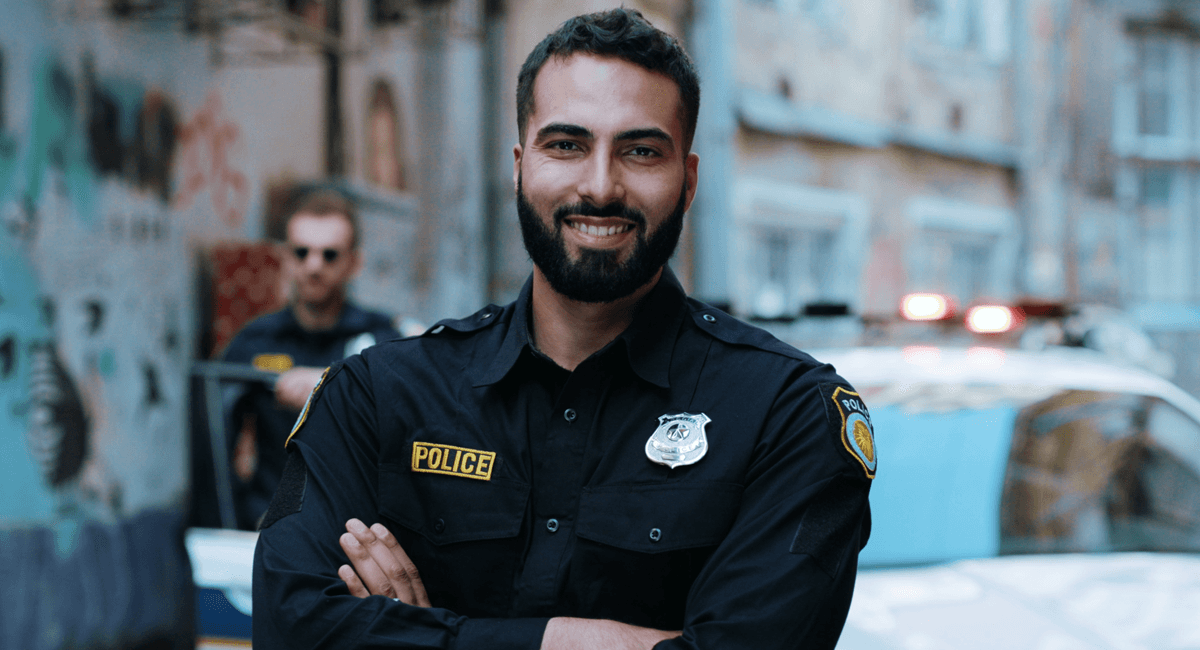 CHEMICAL SUICIDE
In recent years, the incidence of chemical or detergent suicide has been on the rise, and law enforcement is often the first on the scene.  Mixing deadly concoctions of household chemicals in an enclosed space such as a vehicle creates a deadly gas, causing asphyxiation of the victim and a continued threat to anyone in the vicinity. 
Protect yourself and others by using the Chameleon chemical suicide detection kit to detect the gasses commonly found at a chemical suicide incident.
View the videos to learn more about chemical suicide, and how to keep you and your team safe.
METH LABS
Despite aggressive laws limiting the sale of over-the-counter ingredients, methamphetamine use continues to rise, and in many communities, meth labs continue to endanger residents and law enforcement personnel. The fumes from meth production can be fatal if not immediately detected.
Protect yourself by using the Chameleon Clan-Meth lab detection kit to detect the gasses commonly found at a methamphetamine lab.  And, the hands-free capability of the Chameleon chemical detection device allows you to continue to protect yourself with your weapon in these potentially hostile meth lab operations. 
View the videos to learn more about methamphetamine labs, and how to keep you and your team safe.
EVENT SECURITY
Sadly, large events – like sports, concerts, parades and conventions – are now potential targets for chemical attack. These events could be catastrophic, given the large population affected and a limited number of exits. Continual monitoring of the air can help law enforcement respond quickly, should an attack take place. Chameleon is a hands-free chemical detection device that can operate in all weather conditions, so you can be confident in the results.
COUNTER TERRORISM
The threat of attack by a weapon of mass destruction has the potential to claim thousands of lives in a very short period of time. Diligent observation has proven to be an effective tool in the prevention of such terrorist attacks. In large cities, on-the-street police officers monitor the air for toxic chemicals in case of such a threat. Most chemical detection devices are difficult to use and require both hands to operate.  As a hands-free chemical detection device, the Chameleon gives you the information you need without getting in your way.
SPECIAL TEAMS
Special law enforcement teams, such as Special Weapons and Tactics (SWAT), narcotics, bomb disposal and hostage negotiation, must be prepared for a wide variety of situations, including chemical threats. Chemical detection devices, however, are often difficult to use, and require you to holster your weapon to operate. An easy-to-use, hands-free chemical detection device like the Chameleon can save lives and provide useful information in these tactical situations, without interfering with the primary mission.
NATURAL DISASTER
It is common for natural disasters, like floods, earthquakes and tornados, to cause secondary threats, including the release of toxic chemicals into the atmosphere. Directly following the event, it is critical to monitor air quality levels to reduce the risk of harm. Easy-to-use and rugged enough to operate in wet conditions, Chameleon is an ideal choice.
HAZMAT
Whether caused by an industrial, transportation or residential accident, hazardous material incidents can threaten an entire community. While specialized HazMat teams are often dispatched to handle these incidents, police officers are often the first on the scene. Identifying the presence of toxic chemicals is a critical first step in assessing the situation.
Keeping bystanders from the scene of an accident is often the job of law enforcement personnel. These perimeters are determined by the relative risk—including presence of toxic chemicals. Gasses and vapors can spread in many different directions, depending on changes in wind direction, so careful monitoring of the air for toxic chemicals helps law enforcement detect changes in hot and cold zones around a HazMat incident. Many chemical detection devices require lots of specialized training, making them impractical for many applications. With minimal training, all personnel can use the Chameleon Hazmat detection kit