MILITARY Uses for Chameleon®
– CHEMICAL DETECTION DEVICES FOR MILITARY
CHEMICAL DETECTION KIT
As weapons have evolved to include chemical, biological, radiological and nuclear (CBRN) agents, military personnel have learned to anticipate airborne threats in a variety of situations. Whether an intentional chemical attack or unintended exposure, warfighters are now on alert for these deadly threats.
Already in use in multiple military settings, the Chameleon identifies the presence of toxic gases, to help protect military men and women in these dangerous circumstances. The Chameleon is a simple addition to warfighters gear. The color-identification system is easy and reliable, even under the most stressful and complex conditions.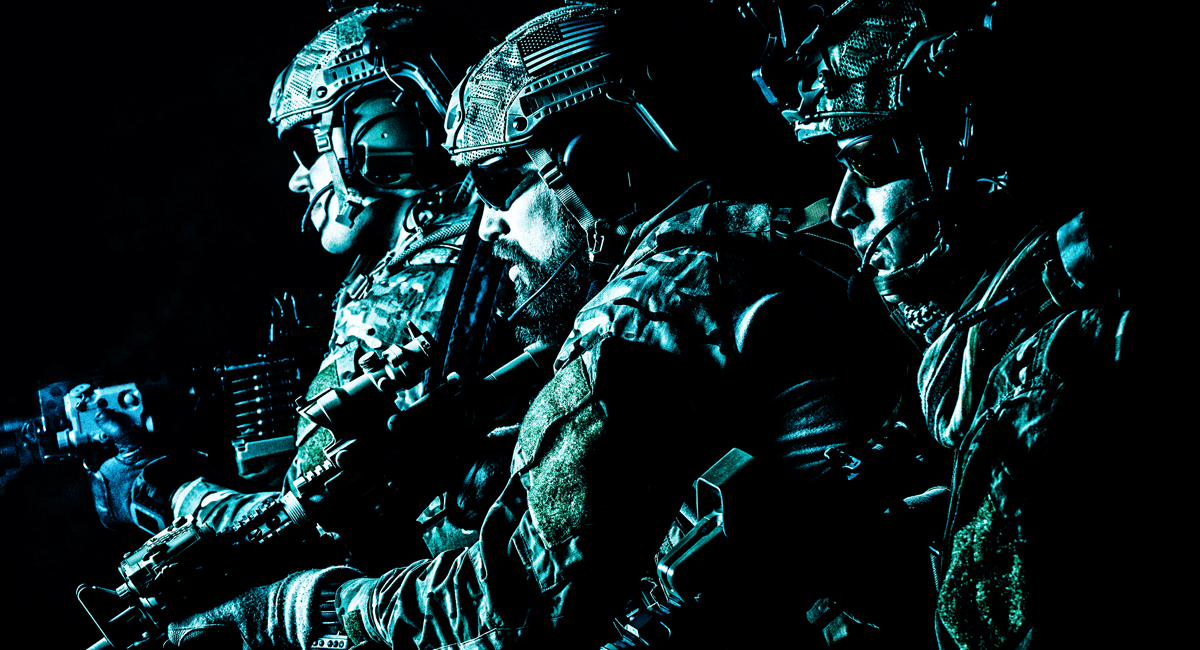 BOARDING TEAMS
When Navy and Coast Guard personnel board boats and ships for inspection, they never know what they'll find. These boarding teams regularly uncover contraband weapons, drugs and stolen goods, and the threat of chemical attack is now as real as encountering gunfire. Because they're operating on the open seas, a waterproof chemical detection device like the Chameleon is critical.
"In short, it is a good piece of gear! We have been using the Chameleon for a while now."
– US Coast Guard CBRNE SME
RECONNAISSANCE
In their search for weapons of mass destruction, CBRN (chemical, biological, radiological and nuclear) Recon Teams may encounter hazardous gasses and vapors. Immediately detecting these threats is fundamental to their mission, and saves the lives of team members, as well as innocent civilians. As a hands-free chemical detection device, the Chameleon gives the information you need without getting in your way.
"Great reliable product you have here."
– US Army Chemical Reconnaissance Detachment
CBRN Units
CBRN units are specially trained and equipped to address unique threats posed by Chemical, Biological, Radiological and Nuclear (CNRN) weapons. Chameleon is a hands-free chemical detection device that can operate in all weather conditions, so you can be confident in the results.
"On today's highly mobile battlefield, "the Chameleon" allows the CBRNE/all soldiers to initially identify agents quicker than ever. A great product that should be integrated in all operations."
– US Army National Guard CBRN Brigade
CONSEQUENCE MANAGEMENT
Once CBRN material is detected, it must be mitigated so that medical assistance can be provided and search and rescue teams can be launched. Continually monitoring the air for toxic chemicals is critical to maintaining safe treatment and rescue conditions. The Chameleon is great choice for consequence management operations.
EOD/IED
Terrorists and military enemies have become more ruthless. Improvised Explosive Devices (IEDs) have evolved to include chemicals, like deadly levels of chlorine gas. Explosive Ordnance Disposal (EOD) personnel must rule out or identify toxic chemicals before disabling IEDs and other explosives. Easy-to-use and hands-free, the Chameleon lets you know if a toxic chemical is present without getting in your way.
SPECIAL OPS
Army Special Forces, Navy SEALs and other special operations teams perform a variety of specialized missions that put them at higher risk for chemical attack. Identifying the presence of toxic chemicals can be a vital part of that mission. The Chameleon is rugged; it still works after being immersed in salt or fresh water. And because it's hands-free, it won't interfere with using your weapon.