Training personnel to be proficient in the use of chemical detection equipment is a worthwhile time investment for military, law enforcement, security, and first responder personnel. While the value of this training is recognized, understanding how to operate electronic detection systems can be too time intensive for may teams. Not to mention the strain these expensive devices can put on a budget.
The Chameleon training kit chemical detection armband has become an integral tool for CBRNe personnel facing the challenge of unknown chemical threats. Lightweight, rugged and hands-free, the design of the Chameleon lends to the needs of first responder, law enforcement and military personnel. The cost-effective nature of the Chameleon platform makes it a favorite amongst decision makers and budget-conscious buyers. With the Chameleon Chemical Detection Armband, the detection of toxic industrial chemicals (TICs) has never been easier.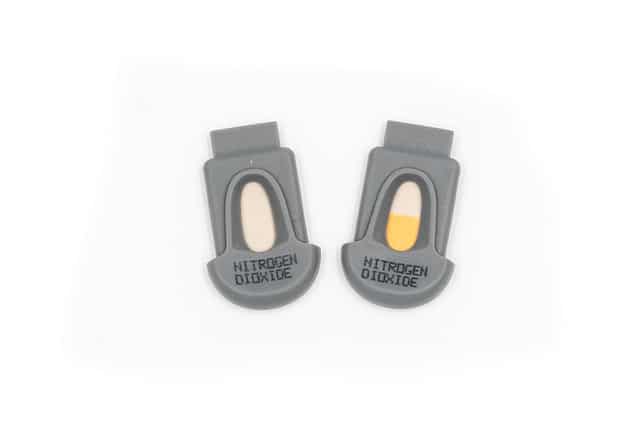 The Chameleon training kit is designed to make training simple, affordable, and time-efficient. The training kit includes inactive cassettes which clearly display the difference between an exposed and unexposed cassette, 50 blue training cassettes for detecting ammonia, as well as ammonia smelling salt ampoules for the trainer to demonstrate the Chameleon's detection ability. Using this kit, an instructor can display the operation of the Chameleon to their trainees in just a few minutes.
Using the training kit is as simple as removing a blue training cassette from its packaging, sliding said cassette into an open cassette-holder slot on the armband, and then breaking an ammonia smelling salt ampoule and wafting it underneath the armband. The cassette changes from one solid color to two colors, indicating that the Chameleon has detected ammonia.
Morphix Technologies has a demonstrated history and commitment to keeping the customers we serve safe. Morphix is extending our commitment to safety by offering a 15% discount on the purchase of a Chameleon Training Kit to all training schools, facilities, programs, and teams that incorporate the training kit into their chemical awareness program. If you'd like more information on the Chameleon Training Kit or would like to request a discount for implementing the Chameleon in your chemical safety program, please contact us by phone at +1(757)431-2260 or email us at sales@morphtec.com.
About Morphix Technologies®:
Morphix Technologies®, located in Virginia Beach, Virginia, is an ISO 9001:2015 certified company creating and manufacturing products that detect invisible dangers in order to save lives. Morphix Technologies® brings innovation to the colorimetric detection space with high-quality, easy-to-use, cost effective colorimetric sensor technology for military, law enforcement, first responders, homeland security and industrial personnel. https://www.morphtec.com/